About Project Impact
Project ImPACT is recognized as one of the most effective coaching programs for parents of young children with autism spectrum disorder (ASD) and related social communication delays. Project ImPACT teaches parents strategies they can use to help their child develop social, communication, imitation, and play skills during daily routines and activities. Project ImPACT is supported by research and based on developmental science and applied behavioral analysis (ABA) principles. It was recently recognized as a Manualized Intervention Meeting Criteria by the National Clearinghouse on Autism Evidence and Practice (NCAEP).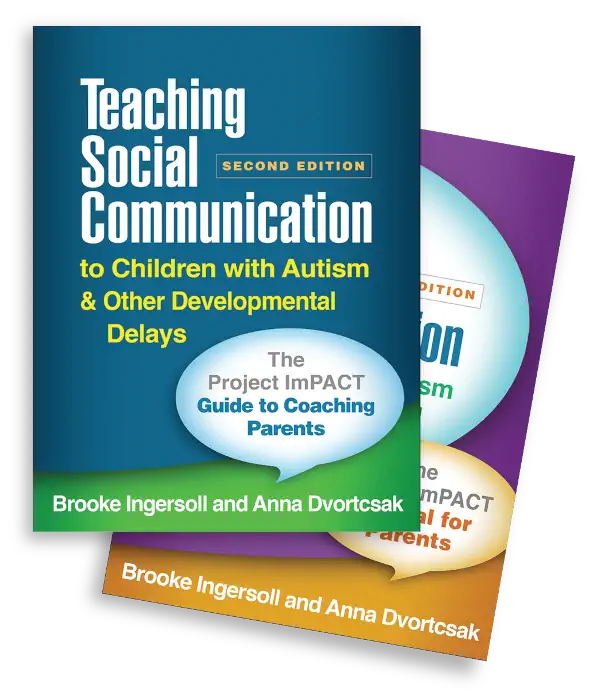 Curriculum
The Project ImPACT curriculum, Teaching Social Communication to Children with Autism and Other Developmental Delays, 2nd Edition, presents everything needed to implement Project ImPACT. The Guide to Coaching Parents provides step-by-step coaching procedures for providers working with individual parents or groups. The Manual for Parents, which includes reproducible forms, helps parents master the strategies and use them at home. Purchasers get access to a companion website featuring 42 reproducible forms for providers and parents as well as video clips of the techniques and slides for teaching parent groups. All providers who plan to use the program with parents should have consistent access to the coach manual and each family receiving parent coaching should also receive their own copy of the parent manual.
Provider Qualifications
Both professionals and paraprofessionals can be successfully trained to use Project ImPACT as a direct intervention with young children with ASD and related disorders. Providers who wish to provide parent coaching in Project ImPACT should have a graduate degree or significant experience working with families of young children with social communication challenges.
Beginner e-Course
The Beginner e-Course (formerly called Online Tutorial) introduces the Project ImPACT program and the intervention strategies. The Beginner e-Course is offered as a 6-hour, self-paced online tutorial that uses a rich mix of didactic elements, video examples, and exercises to teach key concepts. The Beginner e-course is approved for 7 BACB CEUs and 0.60 ASHA CEUs (Intermediate Level; Professional Area).
Participants should have a copy of the Parent Manual before completing the Beginner e-Course. Manuals are provided by DNEA.
Learning Objectives
At the conclusion of the Beginner e-Course, participants should be able to:
Explain the rationale for parent-mediated intervention
Discuss the structure of the individual and group coaching models
List the strategies for engaging and coaching parents
Describe the social communication skills targeted in Project ImPACT
Discuss the Project ImPACT F.A.C.T.S. strategies
Describe behavior management strategies used to address challenging behavior
Advanced Course
The Advanced Course (formerly called Introductory Training Workshop) prepares providers to use the Project ImPACT curriculum with families. The Advanced Course is offered as a 14-hour, multi-day workshop that uses a combination of lecture, video review, role play, and small group discussion to help providers apply the concepts learned in the Beginner e-Course. Providers must complete the Beginner e-Course before attending the Advanced Course. Advanced courses are being held on May 15th – 18th from noon to 3:00.
Learning Objectives
At the conclusion of the Advanced Course, participants should be able to:
Explain how to engage and empower parents in Project ImPACT
Describe how to develop social communication goals with parents for Project ImPACT
Describe how to use Project ImPACT intervention strategies in play and daily activities
Describe how to score parent fidelity of implementation
Discuss how to provide parents with hands on coaching and feedback
Identify how to implement Project ImPACT within your agency