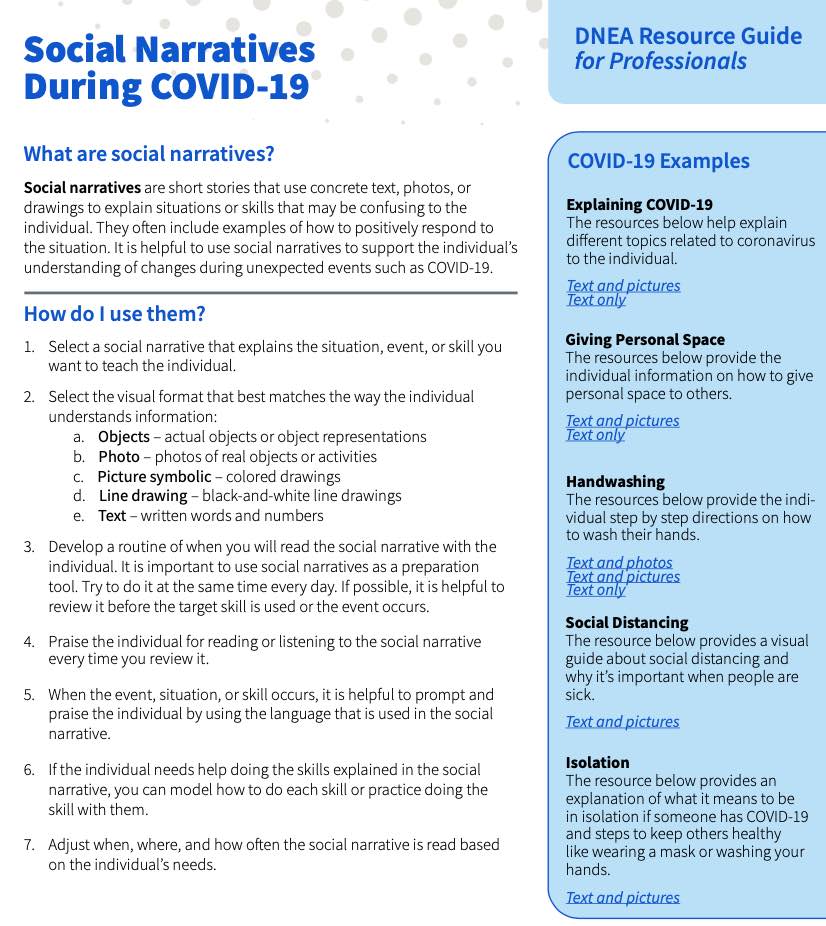 Social Narratives During COVID-19
Social narratives are short stories that use concrete text, photos, or drawings to explain situations or skills that may be confusing to the individual. They often include examples of how to positively respond to the situation. It is helpful to use social narratives to support the individual's understanding of changes during unexpected events such as COVID-19.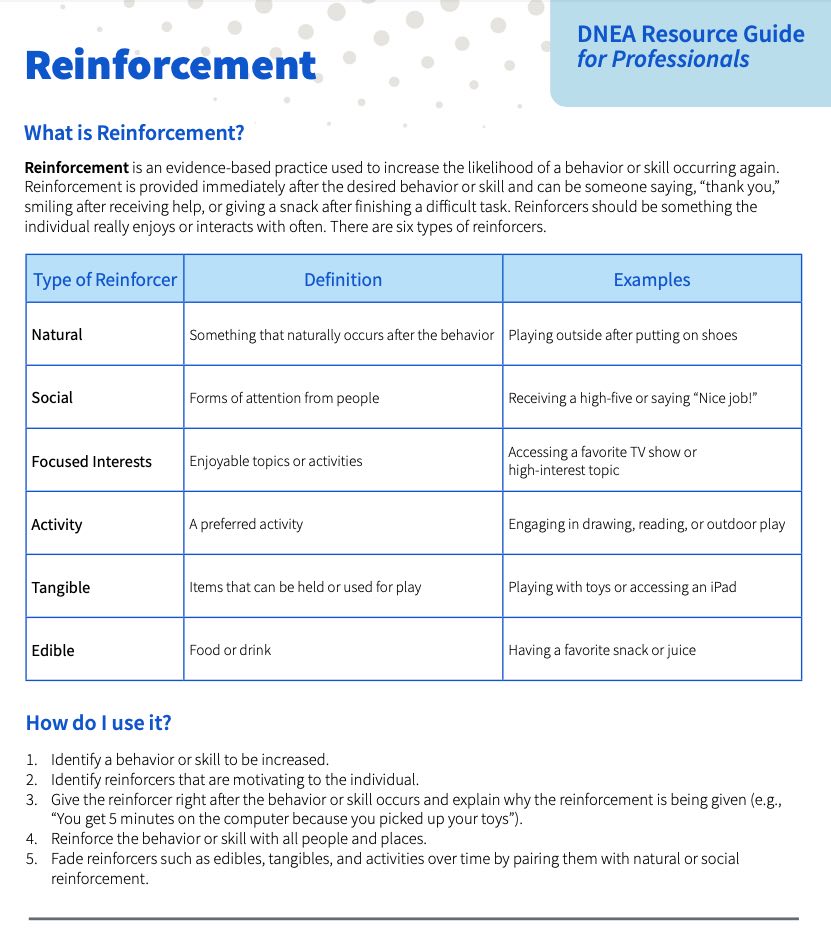 Reinforcement
Reinforcement is an evidence-based practice used to increase the likelihood of a behavior or skill occurring again. Reinforcement is provided immediately after the desired behavior or skill and can be someone saying, "thank you," smiling after receiving help, or giving a snack after finishing a difficult task. Reinforcers should be something the individual really enjoys or interacts with often. There are six types of reinforcers.
Versión en español de esta guía de recursos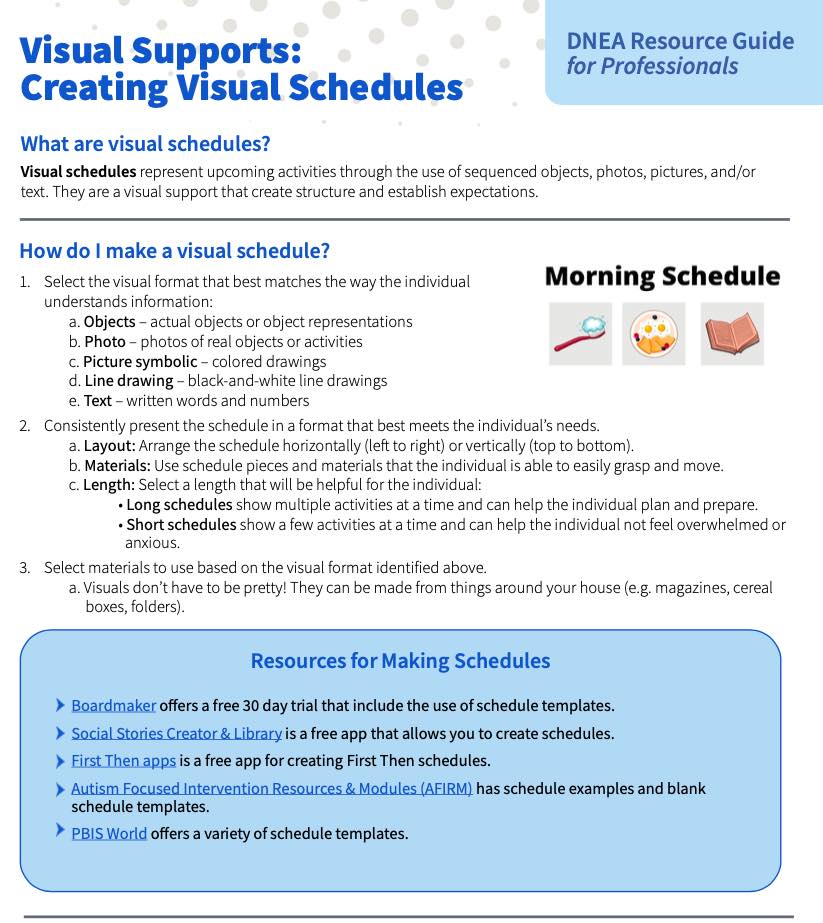 Visual Supports: Creating Visual Schedules
Visual schedules represent upcoming activities through the use of sequenced objects, photos, pictures, and/or text. They are a visual support that create structure and establish expectations.
Versión en español de esta guía de recursos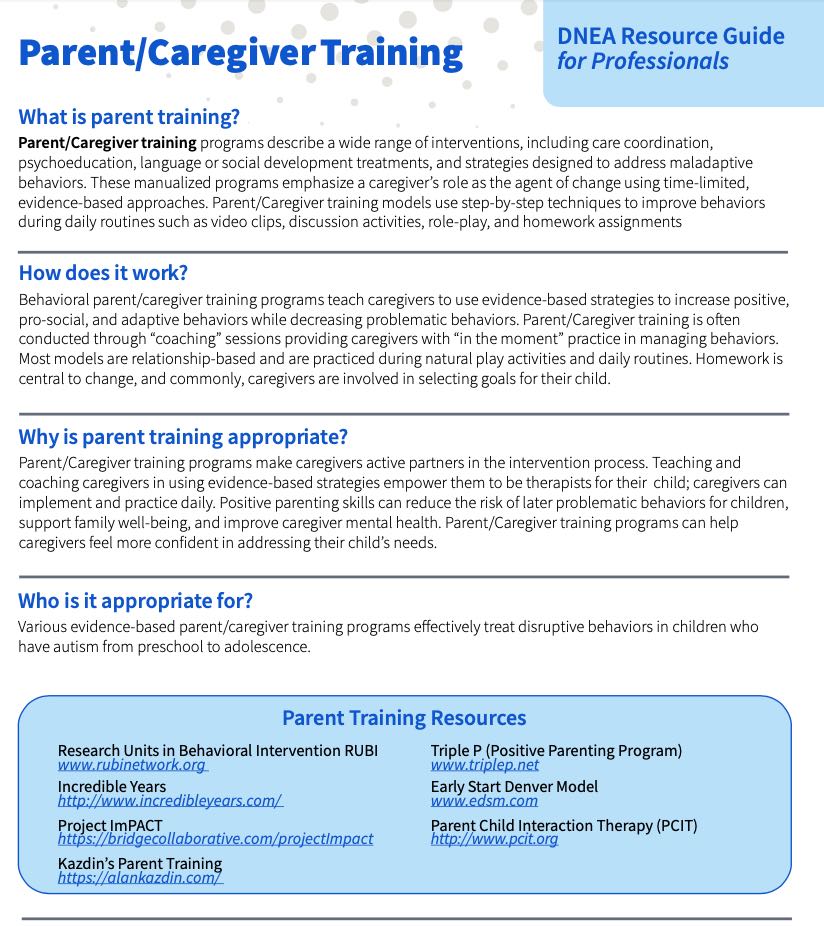 Parent/Caregiver Training
Parent/Caregiver training programs describe a wide range of interventions, including care coordination, psychoeducation, language or social development treatments, and strategies designed to address maladaptive behaviors. These manualized programs emphasize a caregiver's role as the agent of change using time-limited, evidence-based approaches. Parent/Caregiver training models use step-by-step techniques to improve behaviors during daily routines such as video clips, discussion activities, role-play, and homework assignments
Versión en español de esta guía de recursos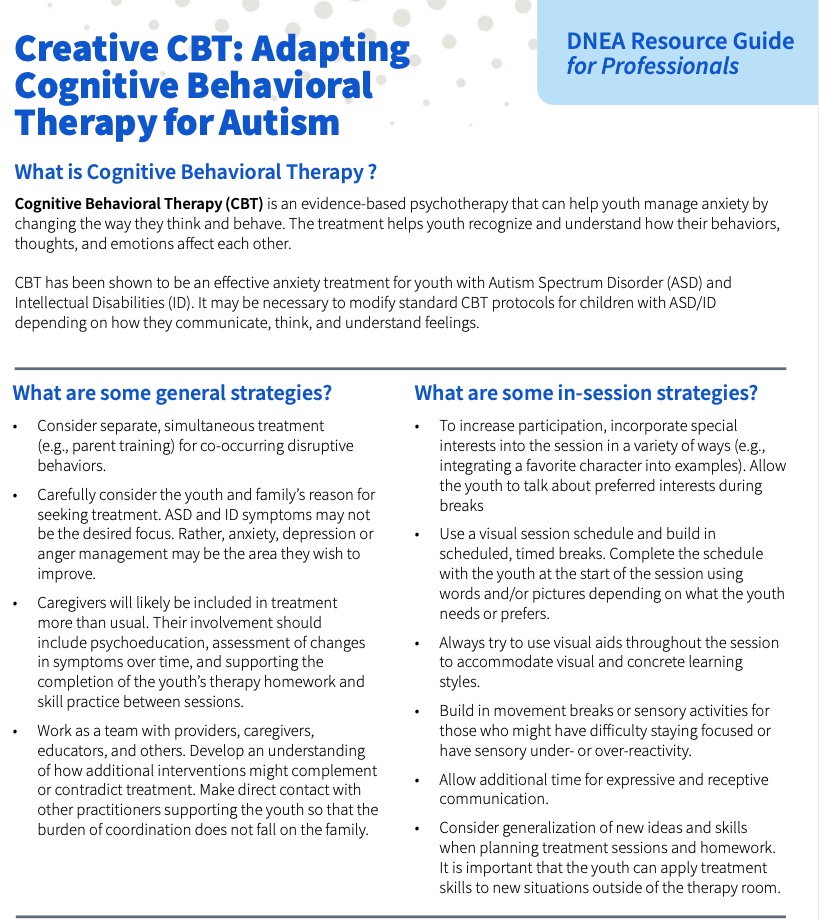 Creative CBT: Adapting Cognitive Behavioral Therapy for Autism
Cognitive Behavioral Therapy (CBT) is an evidence-based psychotherapy that can help youth manage anxiety by changing the way they think and behave. The treatment helps youth recognize and understand how their behaviors, thoughts, and emotions affect each other.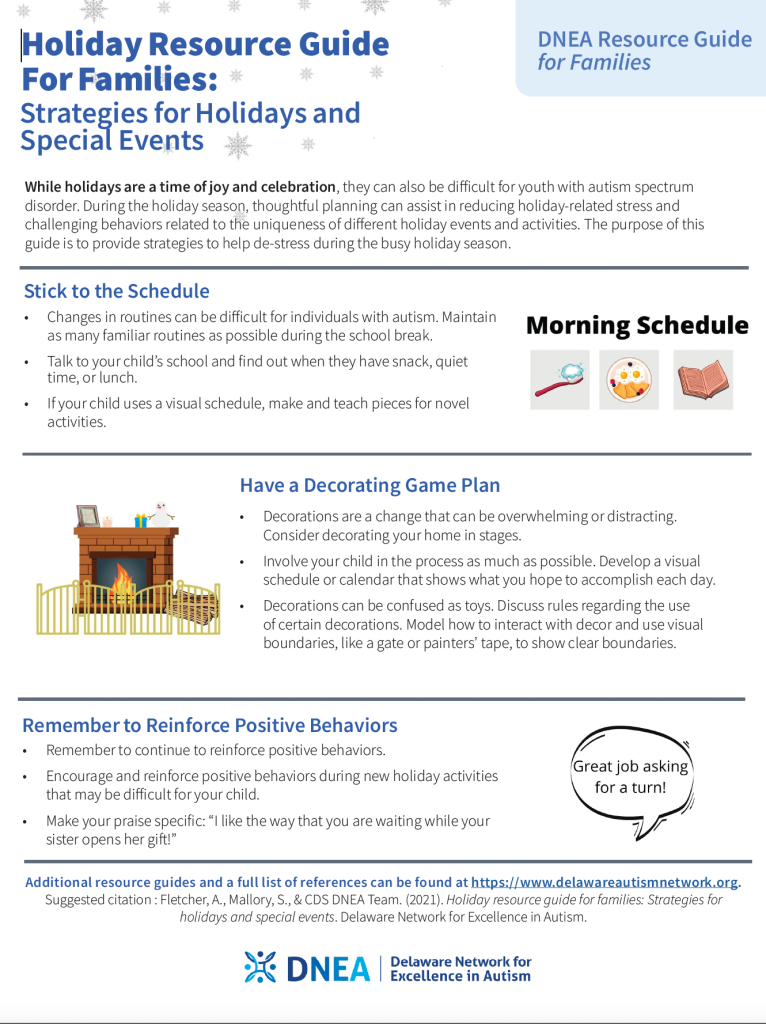 Holiday Resource Guide For Families
While holidays are a time of joy and celebration, they can also be difficult for youth with autism spectrum disorder. During the holiday season, thoughtful planning can assist in reducing holiday-related stress and challenging behaviors related to the uniqueness of different holiday events and activities. The purpose of this guide is to provide strategies to help de-stress during the busy holiday season.
Versión en español de esta guía de recursos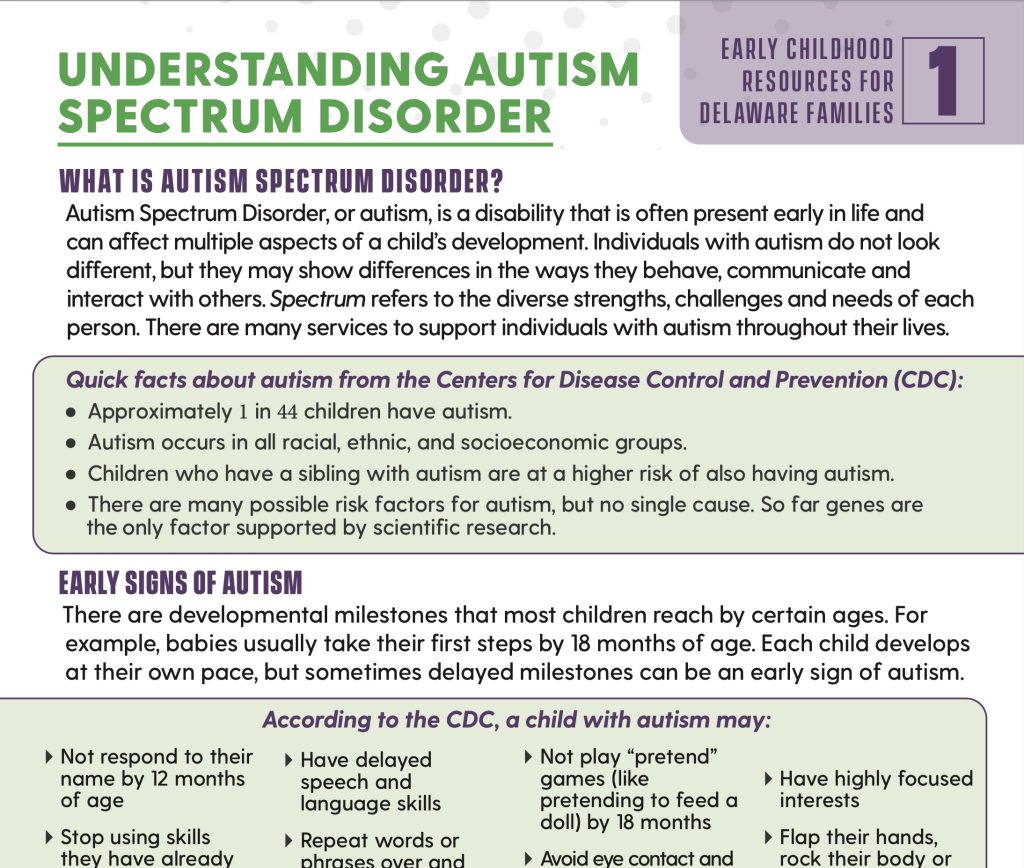 Understanding Autism Spectrum Disorder
Autism Spectrum Disorder, or autism, is a disability that is often present early in life and can affect multiple aspects of a child's development. Individuals with autism do not look different, but they may show differences in the ways they behave, communicate and interact with others.
Versión en español de esta guía de recursos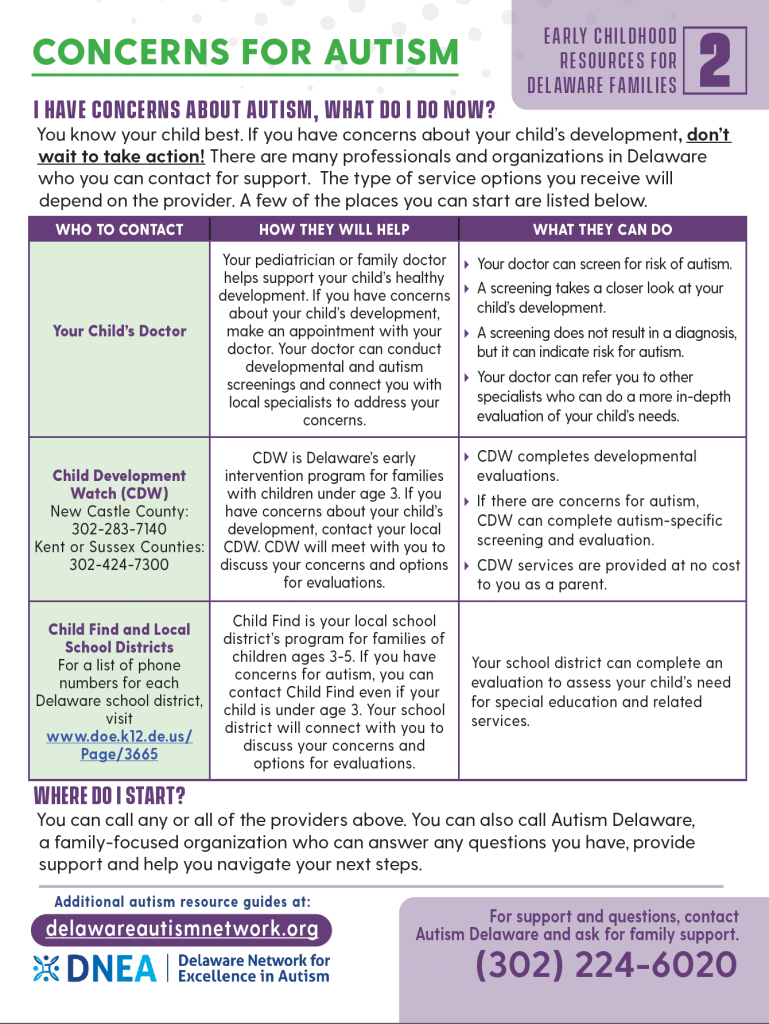 Concerns for Autism
You know your child best. If you have concerns about your child's development, don't wait to take action! There are many professionals and organizations in Delaware who you can contact for support. The type of service options you receive will depend on the provider. A few of the places you can start are listed below.
Versión en español de esta guía de recursos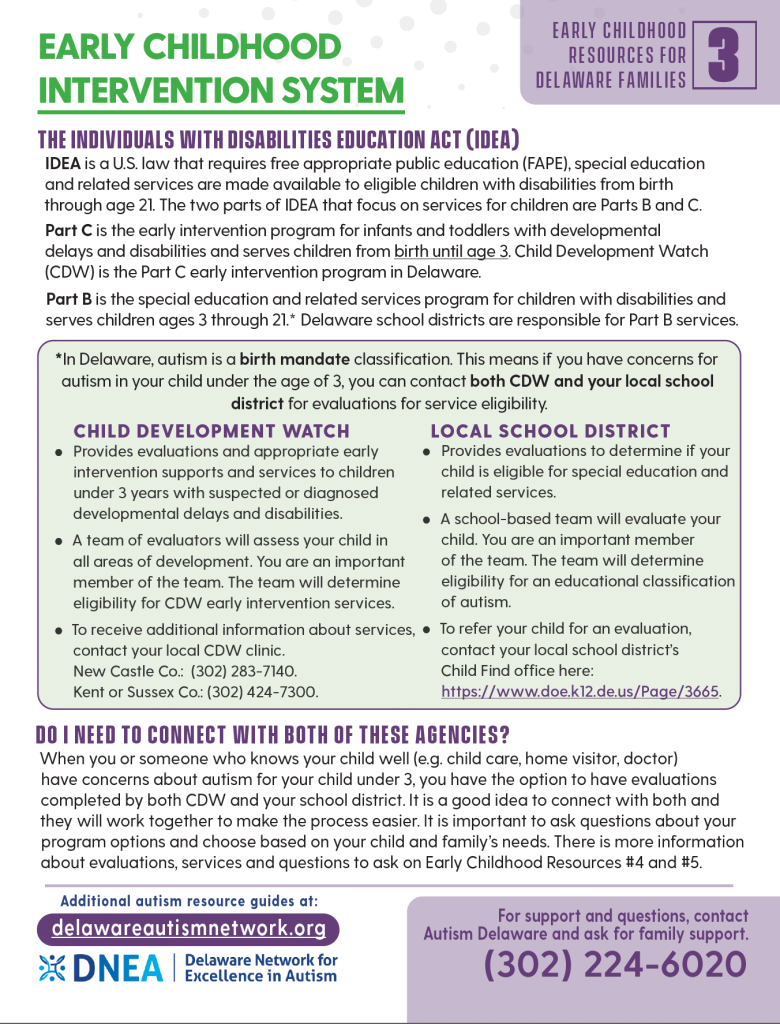 Early Childhood Intervention System
Early intervention programs can enhance outcomes for children, families, and communities by changing a child's developmental path. Early intervention benefits families by better meeting their children's needs from a young age and throughout their lives. 
Versión en español de esta guía de recursos